UNINTERRUPTED POWER
Leave Us a Review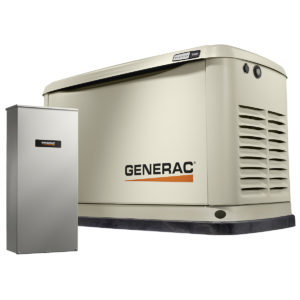 There are many reasons for individuals or businesses to own their own backup/standby generators.  Generators provide peace of mind and uninterrupted power for business continuity and family safety.  The consequences from a power loss are rarely realized until you fall victim to the disruption of power.
The Wire Guys' staff is factory trained on generator install and troubleshooting.  We provide routine maintenance for our clients to ensure when the time comes for backup power – it's there for you.
We'll show you the cost savings and prove that a generator can save you thousands of dollars but more importantly, protect your family and work force.
Generators for Residences
Avoid the inconvenience and dangers associated with power outages by purchasing a backup generator from The Wire Guys.  Electricity is essential for proper functioning of lighting, household appliances, HVAC, and security/life safety systems.  Protect the well being of your family by getting a generator today.
Emergency Standby Power for Commercial Applications and Industrial Plants
Backup generators in this setting provide an added level of insurance to keep your operation or manufacturing process running smoothly without interruption during a power outage.  In some cases, generators provide vital support systems for life safety.
Wire Guy's Top Reasons to Invest in a Generator
Permanently installed and always monitoring the connection to utility power. As a result, a home generator or industrial installed generator automatically detects a loss of electricity.
Standby generators have a longer runtime than a portable generator.
the automatic transfer switch does the work for you unlike a portable generator
HVAC continues to run – keeping a home or facility at a safe temperature
Food stays fresh—longer.
Keep sump pumps on during a flood and avoid damage and costly repairs
Keep the lights on and the family calm
Peace of mind

Contact Us Today!